NEWS ARCHIVE

Bittern Countryside Community Interest Company supports the Arnside and Silverdale AONB partnership
and the Landscape Trust
AGM 2017
This was held at RSPB Leighton Moss on Friday 10 March 2017. Two speakers, from National Grid, gave an interesting presentation on proposals to connect the proposed Moorside Power Station at Sellafield with the main electricity network near Heysham and, in particular, the proposed tunnel to take the cables under Morecambe Bay.
The Community Renewables Initiative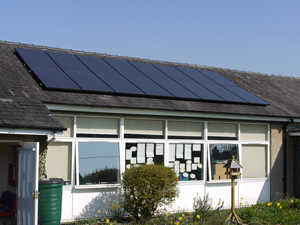 The Community Renewables Initiative was based on raising funds to facilitate the installation of solar pv panels on community buildings. The surplus electricity which the building does not use is sold to the Grid and an agreed proportion of the income is kept by the school/village hall, with the remainder coming back to the CIC to fund the next installation.
Storth School was the first building to benefit from the initiative in February 2012. While generating electricity for the school, the project also forms part of the school curriculum, promoting alternative forms of energy and a more sustainable lifestyle to pupils, their parents and the wider community. In the first year the panels generated 3122kwh of electricity. The feed-in tariff received in the first year amounted to over £1400 and the school's electricity bill too was reduced.
The School has now bought back all the shares in the feed-in tariff allowing the BCCIC to offer help to another school.
Leeds Children's Holiday Centre and Silverdale School were the next to benefit and the three schemes to date have already generated about 40,000kWh of electricity.
The AONB office was the latest building to be added to the programme. Following a change in the ownership of Leeds Children's Holiday Centre, the solar panels are no longer required there, but have since found a new home and are continuing to generate at Lakeland Wildlife Oasis. Unfortunately the change in Government support means that we are not doing any further installations at the moment.